the CEO of Turf on the Go
The turf mat idea was born from my experience working as a personal trainer. I was attending an event to earn
My CEC back in 2016, when I found myself taking a course on the use of core gliding discs. I headed home, excited to use some of the awesome movements I learned, with some of my clients. When I started to have them try some of the exercises, I noticed how they were not as difficult for them to perform as they were for me at the fitness convention.
I had purchased the gliders that had the soft foam on one side and the hard surface on the other- but using the soft sided glider on my gyms laminate floor surface just did not add up to the same workout as what I had experienced using the disc shaped gliders on the carpeted flooring of the hotel ballroom. It drove me crazy as a trainer to know their was such a great product, but I couldn't use it as I had experienced. So I set out to find a way to get my clients the same experience with them, as I had.
The idea came to me to to make my own SURFACE. I decided I wanted it to be about the size of a yoga mat. Simply because I wanted the direction and control of the movements to be controlled, so that maintaining good form would be less of an issue. Plus I wanted to be able to use it all over the gym or in outdoor boot camps.
That allowed my clients to focus all their energy on performing the exercise and not needing to stop and start to reposition themselves.
From there – I thought About making it multi functional and so I backed it to a yoga mat, so that could have a dual sided mat that would serve many purposes. Next came the stoppers on either end of the mat, this allowed clients to have a guide as to the max point of the movement and a goal to focus on.
At this point when I had the mat ready for use, I started to use it with my clients. One of these clients I had been training for years. She instantly loved the mat, and excitedly said to me- we have to turn this into a product and get it out there. She was so eager to help me turn this into all that it could be. This was the day we became business partners and From that day on we were just 2 women on a mission. (Thank you Angelique, because you saw the vision straight away and always believed we could rock this!)
We worked on the final details of the product, put it through a year of hardcore testing, worked out the kinks, developed intense content that worked for clients of all levels, and then added in items to our kit.
So today's product – the final version after 2 years of hard work is now complete. Our patent pending mat kit is now available. The kits come complete with an extra long, 6mm thick workout mat, the flip side is the slick turf surface (this will enhance ANY core gliding move you've ever done!), we chose to include in our kit the original frisbee like Gliding discs by Savier Fitness, (invented by the amazing Mindy Mylrea) because, well simply put – they were the best! and the reason I created the mat.
Then we added a fabric resistance band. You will find our programming to include the use of our fabric band as both a way to enhance a workout but also to use as helper to beginners.
The content and movement combinations are endless. We are very excited to soon be offering up daily uploads of classes that you as an individual can take, by joining our membership and have unlimited access to countless workouts!!
We also recently started our master training program. We will come to your facility and train your staff in the Hiit the Turf methods. If you are a highly motivated trainer and have an interest in our product please message us.
The benefits of working with core gliding disc have been proven to be effective and offer a great, safe individual work out environment. (This idea has been around Pre pandemic but since this has changed so much in our workout worlds – who knew it would also be advantageous, post pandemic, as a safer, controlled single use product) We are so happy to be able to offer a product that simply makes life easier.
If you have more questions, please drop us a message or give us a call. Our team is excited and happy to get you started today!
Never ever give up on your goals and dreams!! Stay focused and happy!!
have fun while achieving your fitness goals
Turf on the Go was created to mimic one of the biggest trends in the fitness world, but can be used ANYWHERE. You get all your fitness needs met by one workout mat. Want to workout outside?  On hardwood floors or ceramic tiles? At the gym but they have no turf? At the hotel? Now you can. The TURF MAT takes care of all these issues! Grab your discs and TURF MAT and you can workout anywhere!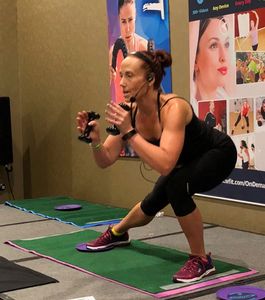 The TURF MAT was designed with the person on the go in mind. It's for a busy person who loves new ways to stay in shape and challenge themselves.  Our mat provides extra cushion and support with it's two layers. Great for people with back or knee injuries. No need to double a regular yoga mat anymore. It's a workout that blasts through calories! It's for anyone who wants to take their fitness level to the next step. Tired of your same routine? The TURF MAT is sure to change that!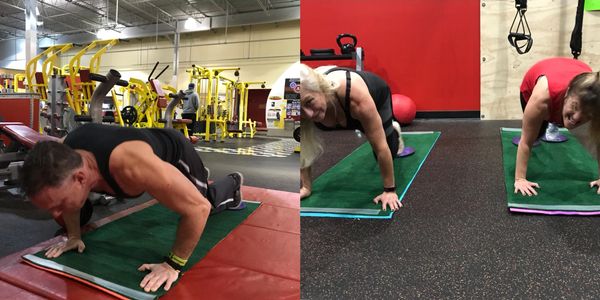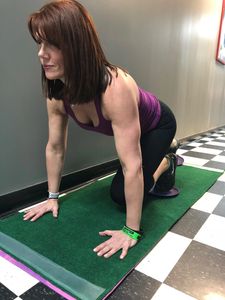 The TURF MAT Company by Turf on the Go created the Turf Mat and the accompanying workouts to maximize the effects of the use of the core gliding discs. We took the slickest possible turf material  (this makes holding a basic position , like a plank , the hardest possible level). From here we show you how to use the TURF MAT from beginner level to advanced. This provides the most use of the total core muscles. Making every single workout  a total body workout with core focus.  
Why is the TURF MAT different then using gliding discs on a wood floor or just carpet? Our surface is a slick glide, the challenge starts from the very beginning. Then as form and core strength improve, so does stamina, strength and skill. instead of just getting a decent workout you get a low impact, high calorie burn, and strength based workout in one. Plus our patent pending mat is made to guide you on form for every movement. This allows for you  to track and see specific progress. The results will astound you!